HEYLO EVERYONE!!
TODAY IM JOINING IN ON THIS OL' BLOG HOP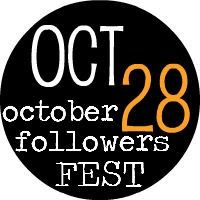 first off, if your new to my blog..
HELLO! IM AMY A 25 yr old living her life to the fulliest.
here are FIVE things about YOURS TRULY..
MOI
1. I'm very much a procastater...i do EVERYTHING last minute.
like for example: this year i was late on getting mine and my little man's costume.
So he isnt going to be wat i wanted him to be, instead he will be a Train Enginerr. NOT BY CHOICE!
2. I have NEVER EVER, been on a airplane nor have i flown anywhere. i have always driven,
and let me tell u, being in a car for hours at a time, kind of blows.
MAYBE, JUST maybe me and the hubs can take a get away soon, for our first anniversary.
WE will see. ;)
3. I AM literally OBSESSED with nail polish.
I have so much, everytime i see a new color, (not picky about my brand, but i prefer Essie
OR Sally Hanson)
4. My Mother is currently battling Cancer, it started in her Breast and has moved to her spine and liver,
and now in her Bones, WHICH is stable at the moment. My mother is my HERO, she fights
everyday like its her last.
I try to keep her AND me in good spirits as much as i can, but sometimes u need a cry.
let me tell u, i have many of those days, but never let my mom see me cry, i MUST be strong for
her..
5. I have to MOST AWESOME HANDSOME LOVING, CARING HUBS EVER. oh AND the cutest little boy on the block..wanna see?
u be the judge. ;)
o here is me and hubs on wedding day
LOVE.
I hope everyone has a GREAT HALLOWEEN, AND ENJOY AND STAY AWHILE, IF U COMMENT ILL FOLLOW BACK!!
HAPPY HALLOWEENNNNN!!